Automate image generation
Save time on creating similar images with different texts and branding!
Create account
How to create many images from a spreadsheet?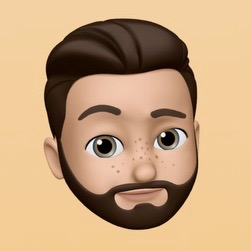 by
Jakub Pomykała
・
Published March 22, 2022
・
2 min read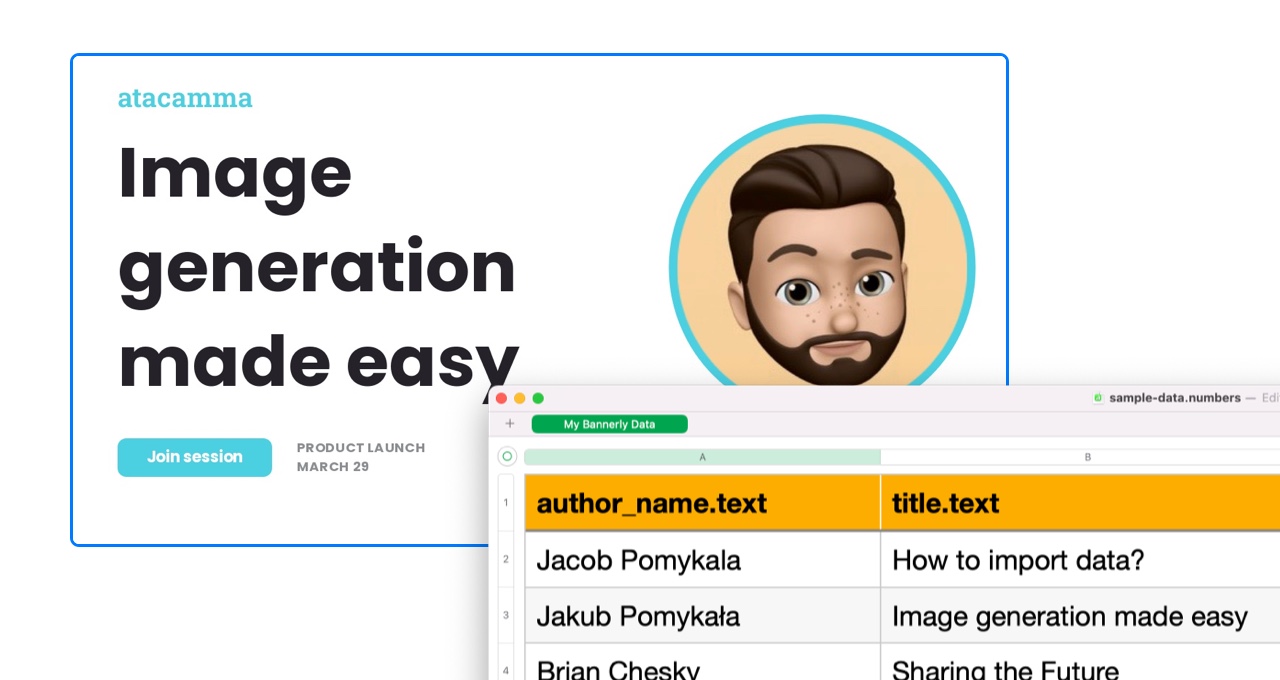 In this blog post I will present you how to quickly generate many images for an online session, video course or a conference. I will use RenderForm to create a template, load data from a spreadsheet and generate images.
Create a template
I used a predefined template from 'Templates' tab and adjusted it to my needs. RenderForm offers a great number of templates in many categories. You can also create your own templates from scratch with an easy-to-use template editor.
In this blog post I will modify texts in two places and change the image (you can see component names on the left side panel).
author_photo - author image on the right side,
author_name - author name under the image,
title - session title.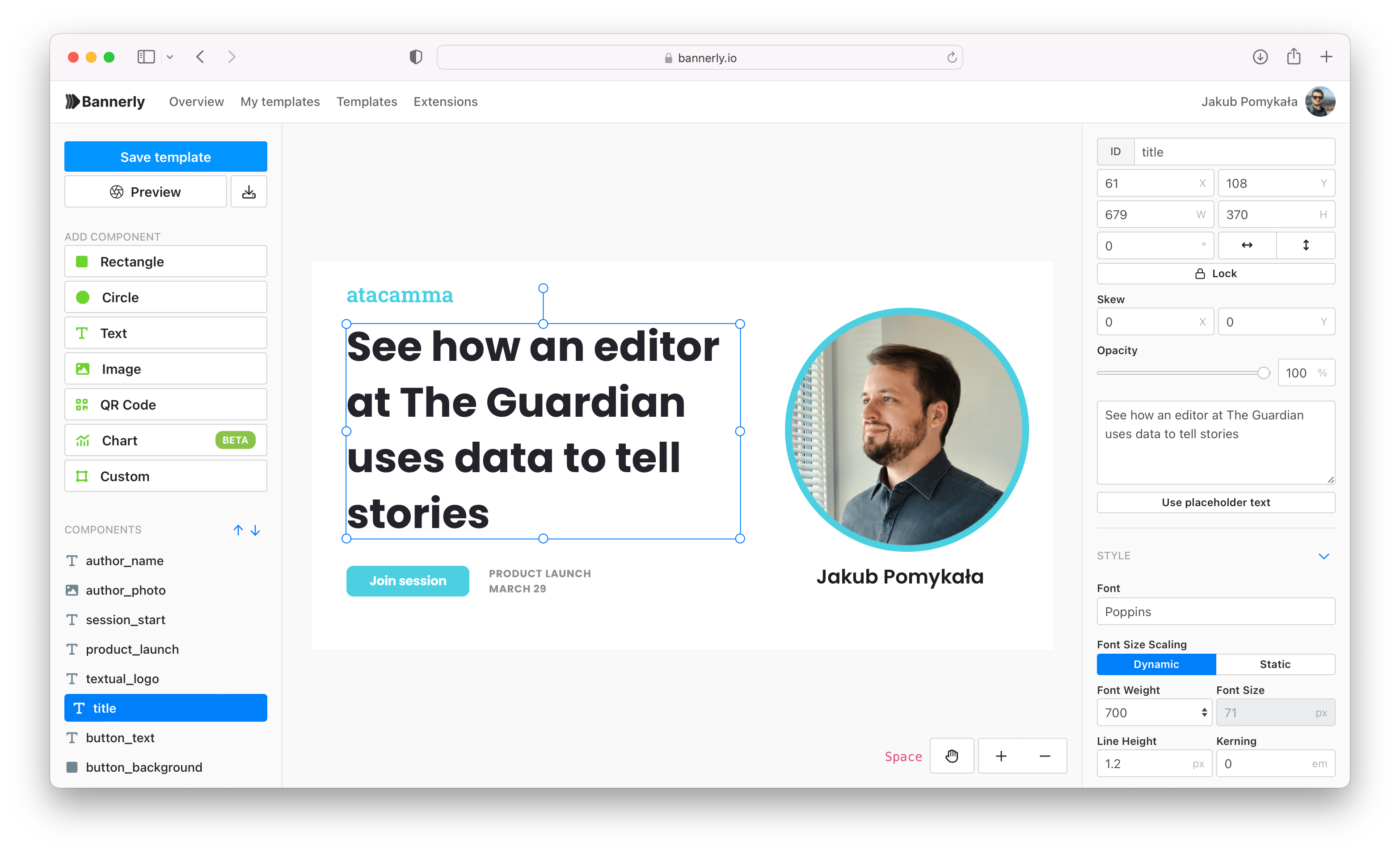 Create a spreadsheet
I created a spreadsheet in Numbers, which is a default spreadsheet app for macOS, but you can use Excel or any other spreadsheet program.
In the first row, I put component names with properties I wanted to change, and separated them with a dot.
Property is a variable of component that you want to modify, for example, text, source url, background color or opacity. Check our docs for more details about components and their properties. Here is my sample spreadsheet:
author_photo.src - change image source of author_photo component,
author_name.text - change text of author_name component,
title.text - change text of title component.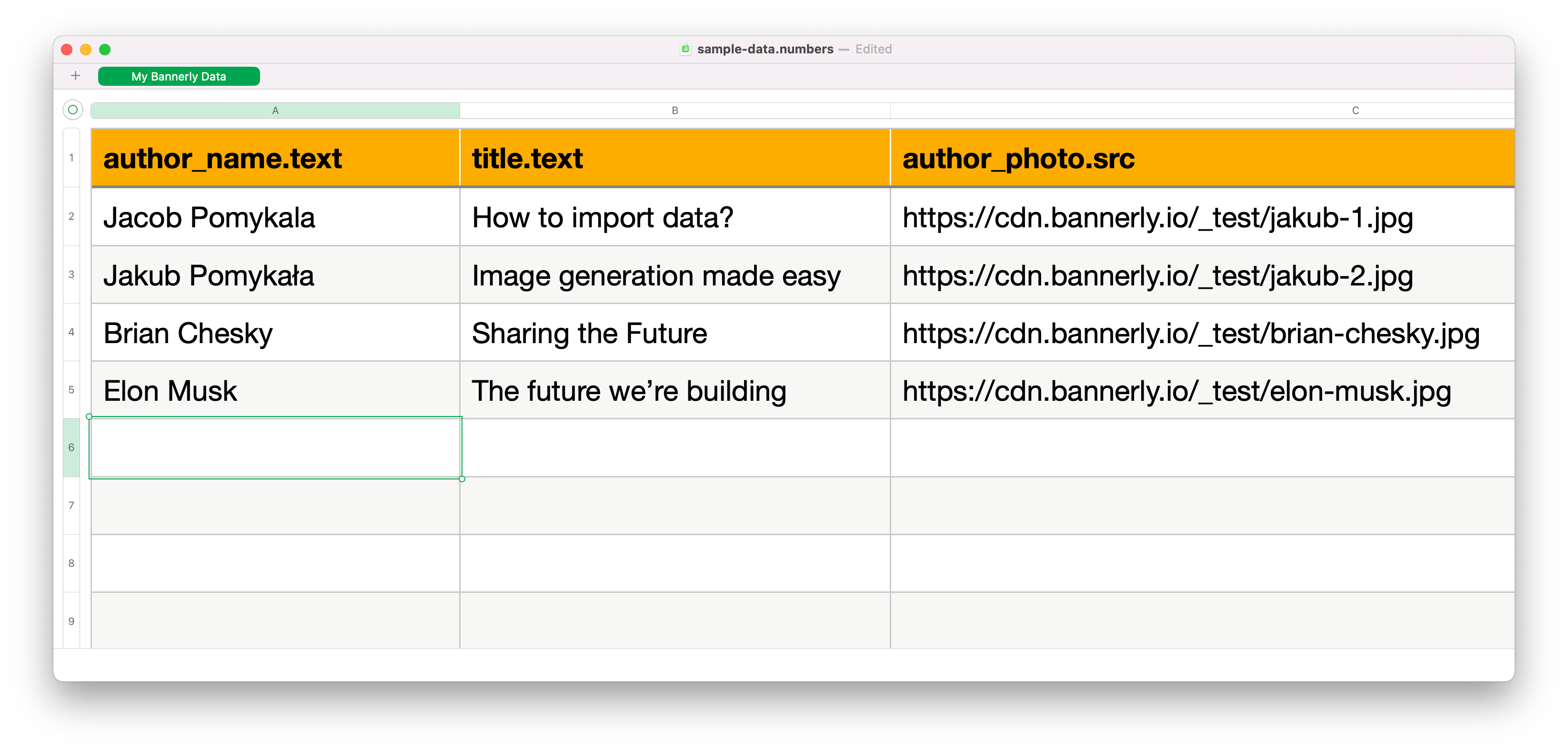 Generate images
Now, head to the 'Extensions' tab in RenderForm and open 'Spreadsheet' extension. Import created spreadsheet using 'Import from file' button, and select the template you want to use on left side.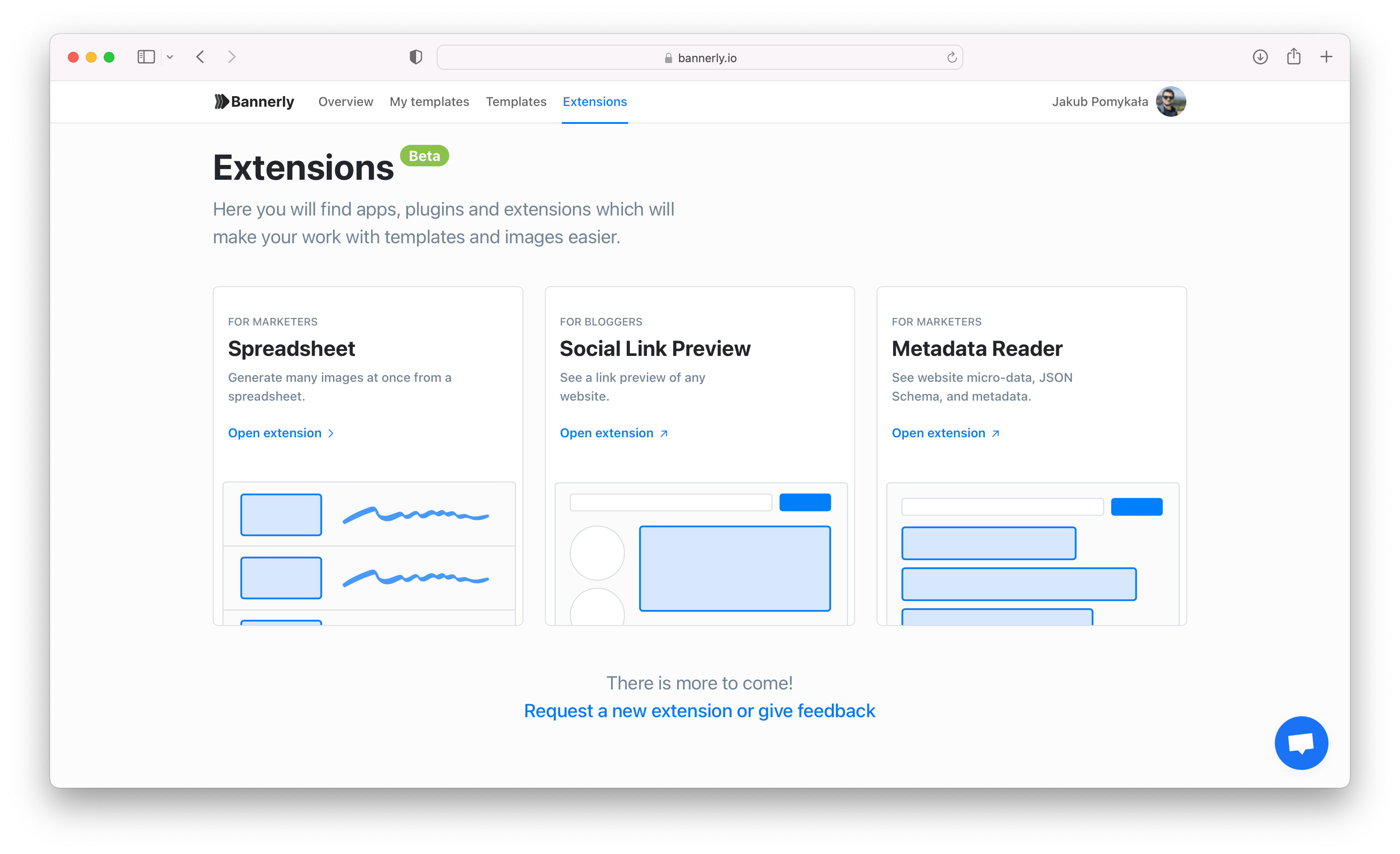 If all properties are loaded properly in your file (they must correspond to your selected template), you are ready to start a generation. To start generating images click 'Generate' button on top of the list, and do not close the window until the generation process is completed.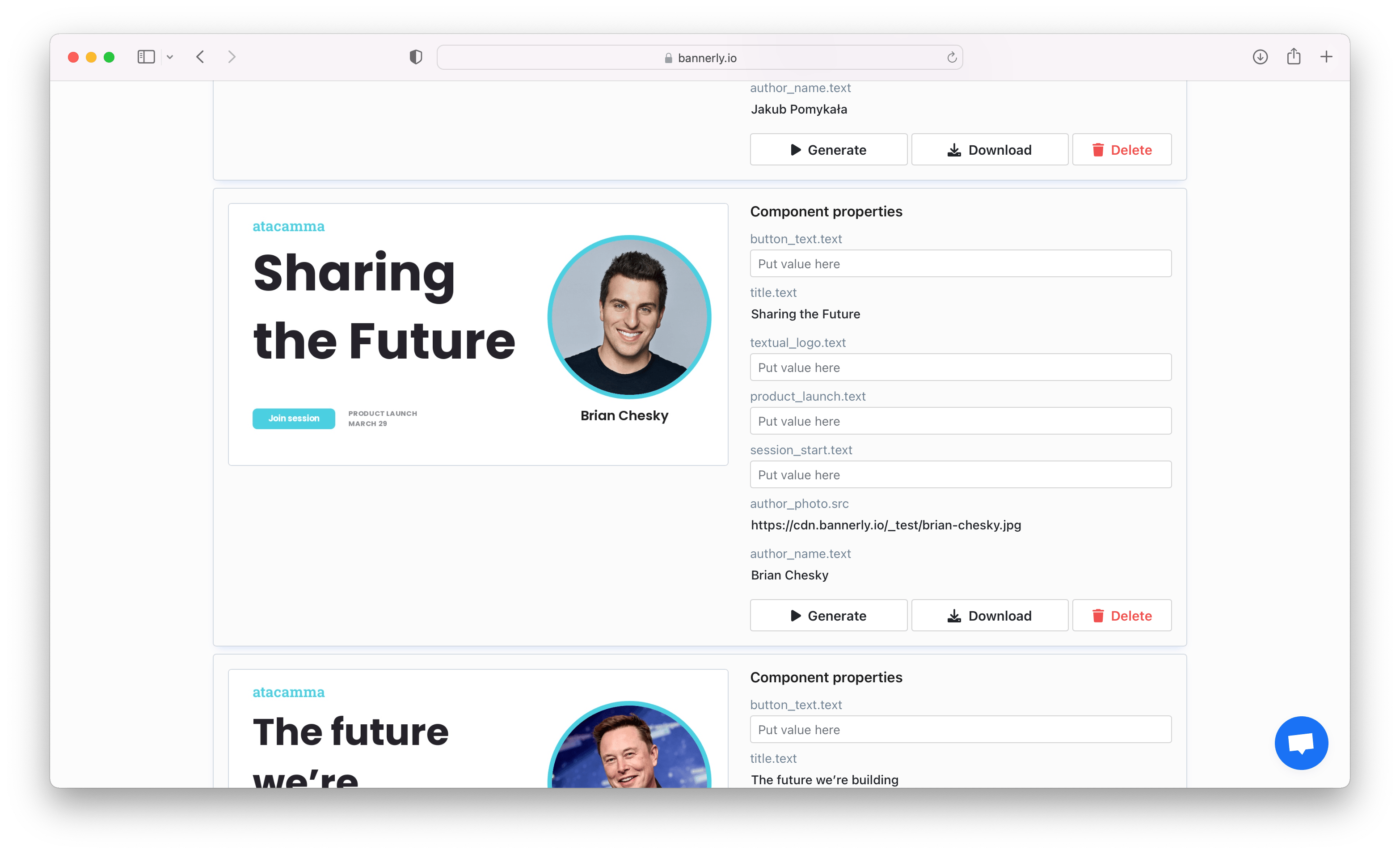 Once the generation is done, you will be able to download the images using 'Download' button.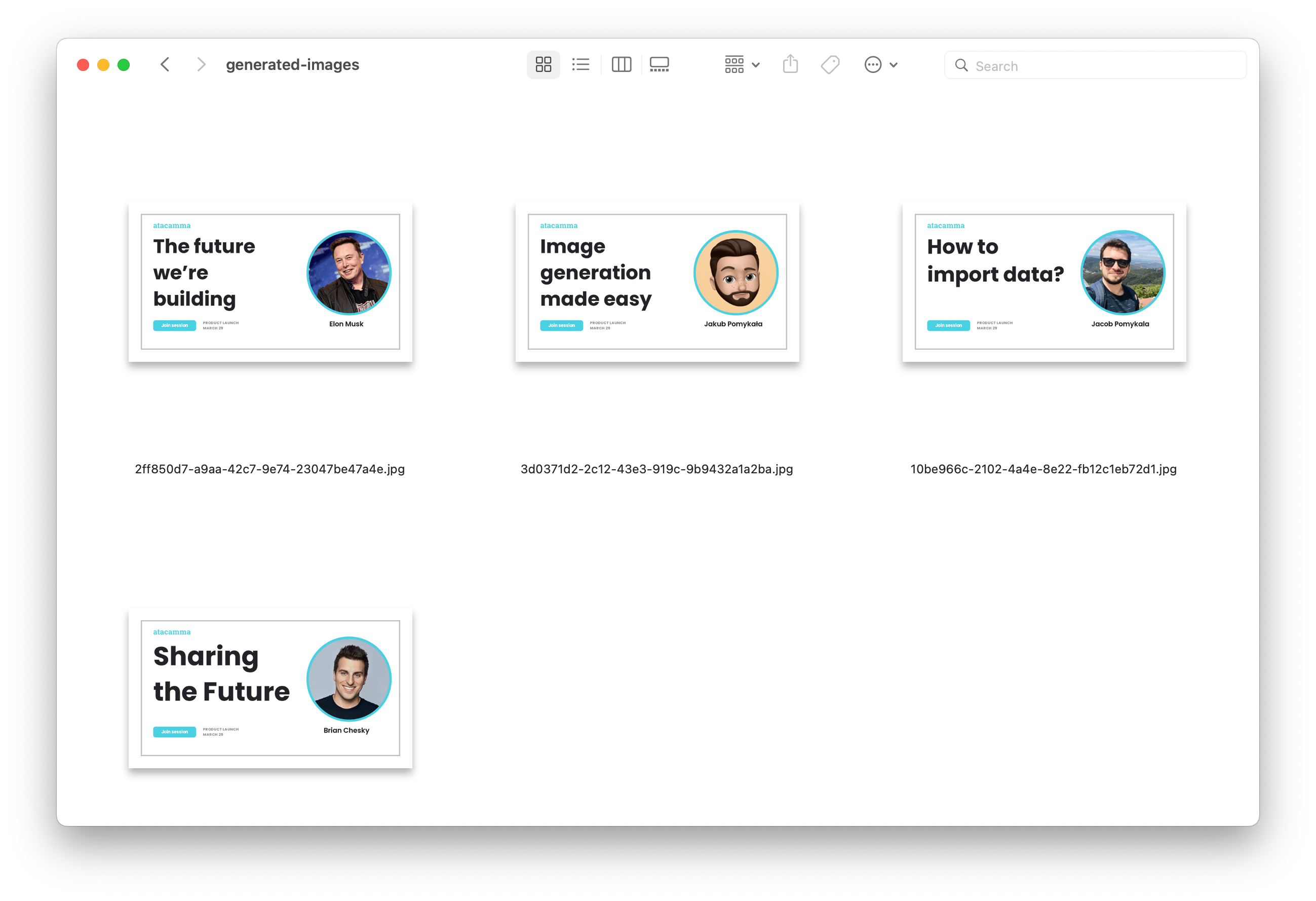 With 'Spreadsheet' extension you are able to quickly generate multiple images with one template and customized content. With image generation and simple image editor, you can create images, post covers or marketing brochures, that match your company, website or app unique style!